content
TRANSLATE
Note: Not all translations may be 100% accurate.
ROSO Game Guide
Welcome to our Game Guide! These guide(s) were made in order to help you out in your journey through ROSO!
For more information about any item(s) or monster(s) in our server, check out our Game Database
Note: You can hover your mouse over any icon for more details about that item.
This guide was last updated on August 16th, 2023
Rage Pass
Overview
The Rage Pass is finally here! You can earn exclusive Badges, Mounts, and other items by completing missions! Check out the initial demo below to get a look at how it's structured!
Some features in-game may be different from the initial demo
You can access the Rage Pass via the button on your mini-map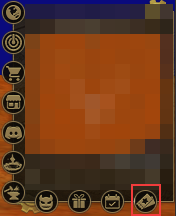 Once the pass has loaded, all the available seasons for your character will be listed.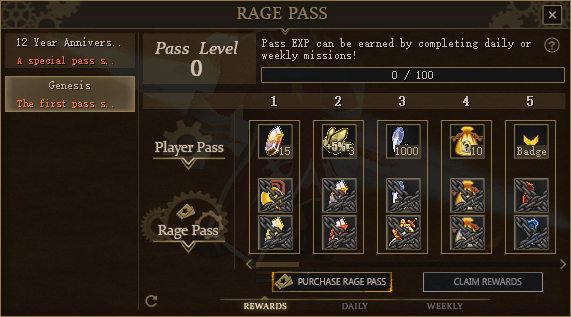 The pass seasons do not have an expiration date.
There is a maximum of 10 seasons active at once. When new seasons are added, only the latest 10 will be displayed.
Each pass season can have a different maximum level.
All levels will require 100 EXP.
For every level up, you'll receive the corresponding rewards.
The rewards for each level have two types: Player Pass and Rage Pass. You must purchase the Rage Pass to claim its rewards.
The purchased Rage Pass is only valid for the season selected. Each season has it's own 'Rage Pass' that must be purchased.
Any completed seasons will still be displayed for up to 7 days after the completion date
Note1
: While there is no expiration date to complete a season, some seasons may have an expiration date of when it will be available for characters. For example, the 'Anniversary' season will only be available for characters that have accessed the Rage Pass before
July 9th, 2023 11:59:59 PM
. Any characters accessing the Rage Pass after that will not have the 'Anniversary' season.
Note2
: When you claim rewards, all unclaimed rewards will be sent to your in-game mail box. For example, if you reached pass level 10 and have not claimed any rewards, you will receive a mail for rewards from level 1-10.
Note3
: Mails will be split up into parts if there are more than 10 items to claim. If you have 20 items to claim, you will receive 2 mails with 10 items each.
Missions
There are two types of missions: Daily and Weekly. Each mission will have a different task to complete. You can complete missions to earn EXP to level up your pass.
Some seasons may offer bonus EXP for completing missions. The bonus EXP will be displayed on the mission.

Once you've completed a mission, the claim button will be available.


Click it to complete the mission and add the EXP to the Pass.
Note1
: Daily missions reset at 12:00 AM.
Note2
: Weekly missions resets every Monday at 12:00 AM.
Note3
: Each mission must be completed by 11:59:55 PM before the missions get locked for the reset.
Note4
: If multiple seasons have a mission to do a task, when completing it will apply to all seasons.
Note5
: The same will apply to daily/weekly missions. If you have a daily mission to kill 1x Barborosa and a weekly mission to kill 5x Barborosa's, when killing it will count for both.
Note6
: Your character must have opened the Rage Pass window at least once before missions will count for them.
Purchasing a Rage Pass
Rage Passes are trade-able items. (Genesis

, Anniversary

) that players can double click to unlock the 'Rage Pass' reward path for a season in your character's Rage Pass.
In order to successfully purchase, check out the following video guide.
Note1
: While a purchase session is created, the game client will not be usable.
Note2
: The game client may time out if the session takes too long. Your payment will still be processing and once it has completed you will receive an in-game mail with your pass.
Note3
: If you have still not received your in-game mail with the pass after 30-minutes of purchasing, please contact support via
Discord
or
a Support Ticket
.
Note4
: Please do not refresh the page or press the back button while the browser payment session is active.
Note5
: If you are unlocking the Rage Pass after you've claimed the respective Player Pass rewards, you can claim all the rewards that you've missed.
Note6
: If you have reached the max level of a season and you have not yet purchased/unlocked the Rage Pass for that season, you have up to 3 days after reaching the max level to purchase/claim any remaining rewards. Afterwards, that season will no longer be displayed in the Rage Pass for your character.
Note7
: Purchasing a Rage Pass for a season now grants you 1.2x Mission EXP for that season along with +5 pass levels (50x

) usable on any season.
Rankings - TOP 30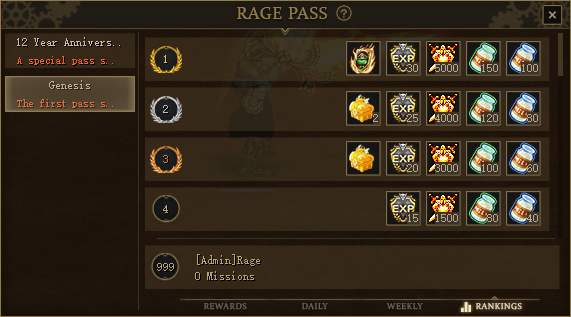 The rankings are based on the total amount of missions (daily + weekly) completed every week.
Only players that have completed 7 or more missions will be in the Rankings.
If multiple players have the same amount of missions completed, the player who reached that amount first will have the higher rank.
Rankings will end Sunday at 11:59:55 PM.
Rewards will be sent to player's mail box starting at Sunday at 11:59:59 PM.
Rankings will reset the same time as weekly missions Monday at 12:00 AM.
Like World Boss, only the character that you have completed the most missions on will be counted.
Note1
: Some seasons may not have rankings.